+ Toggle navigation
ATEX & IECEX
ATEX & IECEx-certified hydrocarbon sensing cables
TTK offers a full range of ATEX & IECEx-certified addressable hydrocarbon sensing cables. They comply with stringent regulations for being installed in explosive environments and hazardous locations.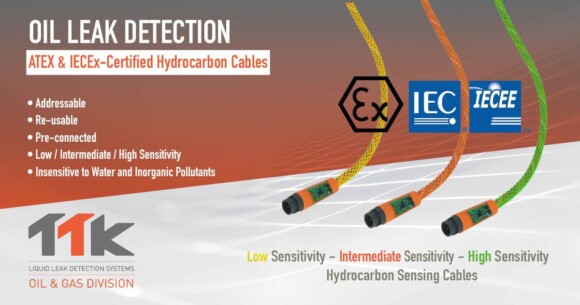 What is ATEX?
ATEX is an abbreviation of ATmosphere EXplosives, a term that appears in the name of European Directive 2014/34/EU, which concerns devices used in explosive atmospheres.
What is the difference between ATEX & IECEx?
The main difference is geography. While ATEX is a mandatory application limited to Europe, IECEx is an international certification accepted in other countries/regions.
What are Zone 0, 1, and 2?
They are the classification of zones ATEX/IECEx :
◾️ Zone 0 – Explosive mixtures are permanently present.  TTK hydrocarbon sensing cables are designed for and can be installed in zone 0.
◾️ Zone 1 – Explosive mixtures are present intermittently. 
◾️ Zone 2 – Explosive mixtures are present abnormally or infrequently. 

Image source: https://www.atexshop.com
TTK products are also certified by numerous certifications: FM, UL, CE, ... For more information about TTK certifications.
For more information about ATEX certification.
TTK range of hydrocarbon sensing cables
| | | | |
| --- | --- | --- | --- |
| | | | |
| FG-OD sensing cable: medium sensitivity  | FG-ODR sensing cable: low sensitivity | FG-ODC sensing cable: high sensitivity  | FG-ODC+ sensing cable: very high sensitivity |