+ Toggle navigation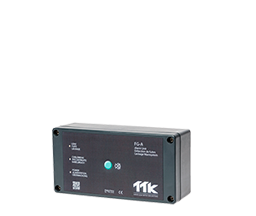 Water & Acid Leak Detection Non-Locating Solution
With FG-A unit
This water leak or acid leak detection solution contains FG-A alarm unit, FG-ECS / FG-ECX water sense cables (or FG-ACS / FG-ACX for acid detection) and system accessories.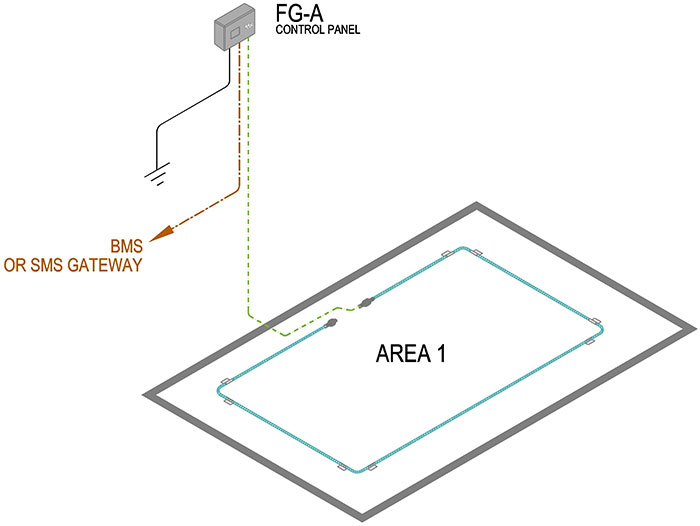 Leak Detection Alarm Unit FG-A: The FG-A alarm unit is a simple leak detection unit without location. It can control up to 15 metres of sense cables. Visual and audible indicators on the front panel allow easy identification of the type of fault (leak or cable break). Two zero volt contact relays provide numerous signaling and centralised monitoring options.
The FG-A alarm unit is designed to be used with TTK analog sense cables; FG-ECS, FG-ECX, FG-ACS and FG-ACX, to give immediate detection of liquid leaks (water, acid or base). Available in wall mounted and rack mounted version.
Water sense cable FG-ECX: The FG-ECX sense cable can be connected to two of TTK's alarm units only: Locating Alarm Unit FG-ALS4 and Alarm Unit FG-A. It detects and locates leaks to the nearest metre when connected to the locating units. The Sense Cable FG-ECX is available in standard, pre-finished lengths of 3, 7 or 15 metres complete with connectors.
Water sense cable FG-ECS : The FG-ECS sense cable has a spliced junction with a length of 3.5 metres of jumper cable and an end termination. It detects the presence of water and base liquids at any point along its length. The FG-ECS sense cable is designed to be connected to analog alarms (FG-ALS4 & FG-A) or digital units (FG-NET & FG-SYS, via diversion box FG-DTCS). It detects and locates the leak when connected with locating units.