>

TTK TECHNICAL RELEASE – Mar 2023
+ Toggle navigation
TTK TECHNICAL RELEASE – Mar 2023
TTK TECHNICAL RELEASE
March 2023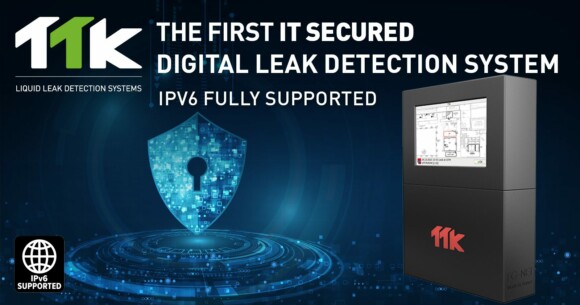 This TTK technical release provides the latest features of FG-NET digital liquid leak detection monitoring panel, including:
Full Support to IPv6
IT Security Reinforcement
TTK Launch IPv6 Full Support
As the number of devices connecting online continues to grow, so does our need for IP addresses. That's why the Internet is currently in a transition period of migrating from IPv4 to the newest version of the Internet Protocol: IPv6.
Today, we are excited to announce that digital liquid leak detection monitoring panel FG-NET and its satellite devices FG-BBOX and FG-RELAYS are now the first digital leak detection system with full support for the Internet Protocol Version 6 (IPv6) address.
With IPv6 becoming more prevalent in the data centre industry, you may already be on the path to IPv6 deployment with your network and applications. TTK has support for IPv6 so that organizations can have both addresses based on a user-defined preference, for the IP - v4 or v6 address - or the MAC address, to link between FG-NET*, FG-BBOX* and/or FG-RELAYS* panels.
*: All three panels now offer a full support for IPv6 with FG-NET v4.5.1 and FG-BBOX/FG-RELAYS v1.7.
What is IPv6?
IPv6 (Internet Protocol version 6) is the sixth revision to the Internet Protocol and the successor to IPv4. It functions similarly to IPv4 in that it provides the unique IP addresses necessary for Internet-enabled devices to communicate. However, it does have one significant difference: it utilizes a 128-bit IP address.
Key benefits of IPv6 include:
No more NAT (Network Address Translation)
Auto-configuration
No more private address collisions
Better multicast routing
Simpler header format
Simplified, more efficient routing
True quality of service (QoS), also called "flow labeling"
Built-in authentication and privacy support
Flexible options and extensions
Easier administration (no more DHCP)
To learn more about IPv6: https://en.wikipedia.org/wiki/IPv6   
IT Security Reinforcement
IT security prevents unauthorized or malicious threats and potential security breaches which can have a huge impact on your organization.
When you enter your internal company network, IT security helps ensure that only authorized users can access and make changes to sensitive information that resides there. IT security works to ensure the confidentiality of your organization's data.
With this in mind, we have upgraded additional security features on the digital liquid leak detection monitoring panel FG-NET and its satellite devices FG-BBOX and FG-RELAYS, including:
Log-In Trap

The system locked after three failed login attempts.
HTTPS connections with TLS1.2 

With HTTPS, data is encrypted in transit in both directions: going to and coming from the origin server, thus adding security and trust. Internet security involves the protection of information that is sent and received in browsers. It protects users against man-in-the-middle (MitM) attacks that can be launched from compromised or insecure networks.
Using HTTPS connections, all information transit by TTK panels is encrypted, as a result, usernames, and passwords can't be stolen in transit.
509 Public Key Infrastructure Certificate and Certificate Revocation List (CRL) Profile (RFC 5280) Support, the SSL certificate used for HTTPS connections and keys can be changed by the user directly in the user's interface.

The X. 509 certificate is a safeguard against malicious network impersonators. When a certificate is signed by a trusted authority or is otherwise validated, the device holding the certificate can validate documents. It can also use a public key certificate to secure communications with a second party.
All three devices FG-NET, FG-BBOX, and FG-RELAYS panels now offer IEEE 802.1X support (Port-Based Network Access Control) with all EAP (Extensible Authentication Protocol) methods based on username/password (Remote Authentication Dial In User Service, A.K.A. RADIUS) as well as the EAP-TLS

To put it in a simple way, this allows a network switch to identify with certainty the device connected to it. Thanks to this, it is impossible to disconnect the control panel and to connect a laptop instead and try to impersonate the control panel by using its MAC address for example.
Summary
The FG-NET system from TTK is the first digital leak detection system on the market that offers the above-listed advanced security features.
Today, companies across the globe rely on TTK which constantly improves its products and added-value services to efficiently monitor the mission-critical areas and equipment of its clients.