>

TTK Project Case Study: TTK in the Largest Telecom Data Centre in Egypt
+ Toggle navigation
TTK Project Case Study: TTK in the Largest Telecom Data Centre in Egypt
TTK WATER LEAK DETECTION SYSTEM IN THE LARGEST TELECOM DATA CENTRE IN EGYPT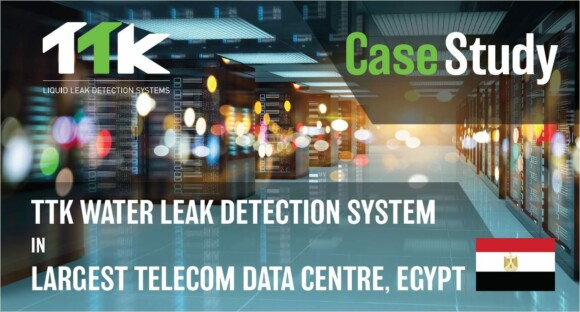 View the case study in PDF format. 
Project Background
Located in the heart of Cairo's Business Centre (known as Smart Village) and opened in 2021, the new data centre is Egypt's largest certified tier III data centre facility, built by Egypt's first integrated telecom operator and one of the largest subsea cables operators in the region.
This state-of-the-art data centre facility is connected with an advanced fully meshed network securing access to 14 submarine cable systems, it can house up to 2,000 racks over a 4 colo modular facilities campus.
Areas to be Monitored
The scope of work is being performed to continuously monitor the gray space within the new data centre from water leaks. The following areas are being protected:
UPS Rooms
Battery Rooms
Communication rooms
CRAH (Computer Room Air Handler) Rooms
Project Requirement 
This new data centre is characterized by an enhanced colocation service and higher levels of redundancy with the ability to expand and accommodate growing colocation needs. Likewise, the client requires a smart digital water leak detection system evolving easily with future needs, in addition to all features that a world-class system already has.
TTK's Solution 
TTK Middle East recommended its cutting-edge digital water leak detection system – the FG-NET panel with FG-EC addressable water sensing cables - be installed under the raised floors to the perimeter of all technical areas. 

Sensing cables
Each length of FG-EC cable contains an embedded microprocessor which intelligently monitors the cable status and provides continuous real-time communication to the TTK digital units.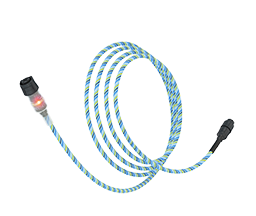 TTK addressable water sensing cable FG-EC
Digital monitoring panel
• The FG-NET monitoring panel is installed in the basement. In the event of a leak, the panel displays the leak location on its touch screen, precise to 1m. Furthermore, it drives dynamic drawings on the host BMS, which can be visualised at the same time on the central building control room's screens.
• Versatile, a single detection panel can control up to 120 lengths (or 1800 metres) of water, hydrocarbon and acid leak sensing cables. In the example of this case study, over 53 lengths of FG-EC
sensing cables were installed on the panel, allowing for easy extension in the future. Sensing cables could be directly added to the existing system with no need for an extra monitoring panel, simply the addition of jumper cables and diversion boxes (if needed) to complete the connection.
| | |
| --- | --- |
| On-site FG-NET panel's touch screen showing a 'leak' simulation | |
Benefits of TTK's digital system for data centres
• Fast and reliable leak detection with fully mapped and accurate multiple simultaneous leak locations.
• Each individual cable can be managed independently (adjustable reaction time, relay configuration) by the control panel.
• Multiple communication interfaces: TCP/IP, MODBUS/JBUS, RS422/485.
• Sending the report to the BMS (Building Management System); sending email alerts.
• Easy operation and maintenance.
• Extensible system thanks to a network of satellite panels.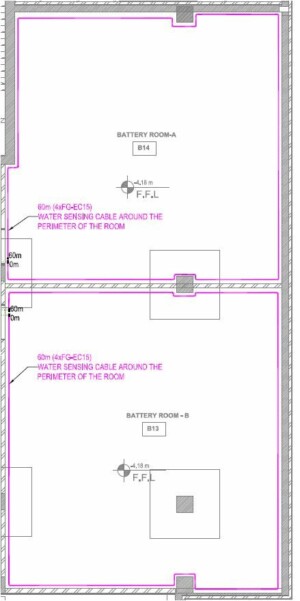 TTK water sensing cable layout for battery rooms - Extract of TTK digital leak detection drawing