>

TTK Project Case Study: TTK in a Data Center Building, Indonesia
+ Toggle navigation
TTK Project Case Study: TTK in a Data Center Building, Indonesia
TTK WATER LEAK DETECTION SYSTEM IN A DATA CENTER BUILDING, INDONESIA
To read this case study in printable PDF format.
Project Background
The client required a comprehensive water leak detection system to monitor its cooling equipment (air handling units and fan coil units) and various technical areas. Furthermore, to create maximum of security, the client requested for the system to be simultaneously accessible via multiple interfaces.
Areas to be protected
The entire technical areas and cooling equipment, such as:
- Air handling units (AHU)
- Overhead fan coil units (FCU)
- Equipment with bund wall inside electronic rooms
- Data halls
T
TK's Solutions 
To continuously monitor the air handling units (AHU) and equipment in the technical areas, the addressable water sensing cables are installed on the floor on the perimeter of the AHUs or equipment inside the bund walls. The overhead fan coil units (FCU) are monitored with customized 0.3m water sensing cables, installed in each drip tray.
To provide a fail-safe water leak detection system with redundancy features, TTK recommended a central monitoring interface supervising five local modules.
The digital panel (FG-NET) acts as central monitoring unit from which local analogue panels (FG-ALS8: eight zones alarm and monitoring panel) and all connected sensing cables circuits can be supervised. Meanwhile, each analogue panel acts as an independent local detection module which display leak details while still sending information to the central interface and the BMS (see the project's architectural diagram).
In the event of a leak being detected on a local panel, it sounds an alarm, activates local relays, displays the location on the module and simultaneously sends signals to the digital panel.
To combine both digital and analogue systems, a Modbus interface (FG-DTM) is used.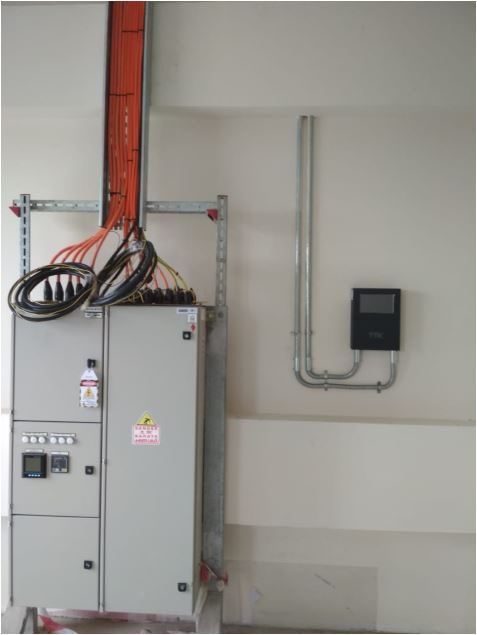 FG-NET central monitoring panel installed on site
Benefits of TTK's redundant system
• Redundancy: In the event of a connection failure with the central monitoring digital panel, the analogue panel continues to operate independently.
• Simultaneous display of alarm: In the event of an alarm, both analogue panel (local detection module) and digital panel (central monitoring unit) can display the alarm information
simultaneously.
• Fail-Safe: In the event of a system failure, the BMS continues to receive information through the local relays.

FG-DTM Modbus Interface: a bridge between the digital and analogue systems
Easy to configure and operate, the Modbus interface FG-DTM is designed to merge the product line of digital and analogue systems. It collects information from analogue panels and integrates them into the digital system.
To download FG-DTM's datasheet
| | | |
| --- | --- | --- |
| | | |
FG-NET digital monitoring panel (left), FG-DTM Modbus Interface (middle), FG-ALS8 analogue alarm panel (right)