>

TTK Project Case Study: TTK at "SOLEIL" Research Centre, France
+ Toggle navigation
TTK Project Case Study: TTK at "SOLEIL" Research Centre, France
TTK WATER LEAK DETECTION SYSTEM AT A RESEARCH CENTRE IN FRANCE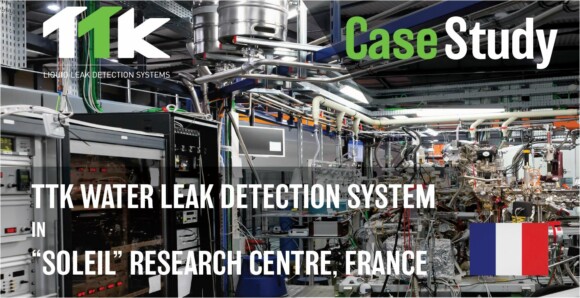 View the case study in PDF format. 
Project Background
Synchrotron SOLEIL is a cutting-edge pluridisciplinary scientific research laboratory near Paris. More concretely, SOLEIL is a particle (electron) accelerator that produces the synchrotron radiation, an extremely powerful light that permits exploration of inert or living matter. Shareholding of two French national research agencies (CNRS and CEA), Synchrotron SOLEIL, the french national synchrotron facility, is a service platform open to scientific and industrial communities from France and abroad since 2006.
Synchrotron SOLEIL Research Centre
Photo source: https://www.synchrotron-soleil.fr/fr
The experimental facilities of a synchrotron radiation laboratory are called "beamlines." They consist of one or several successive cabins where the light beam is propagated from the storage ring and directed toward the samples being studied.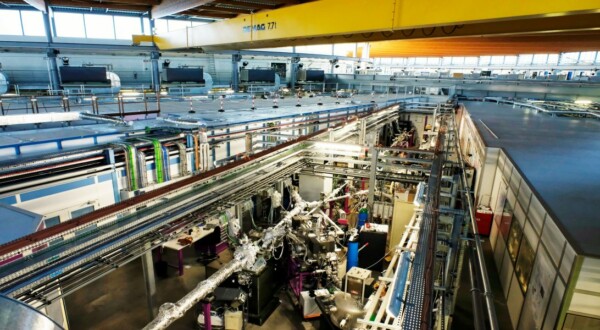 Interior of a laboratory in a beamline
Photo source: https://www.synchrotron-soleil.fr/fr
Project Requirement
The laboratory and the beamlines are critical infrastructures, very sensitive to the abnormal presence of water or any dangerous liquid. In order to be alerted and react as soon as possible in case of leakage, a TTK digital leak detection system was installed in 2016. Since then, new independent equipment and centralized apparatus have been added. Today, the client wishes to upgrade the existing TTK system to harmonize all.
The storage ring and beamline structure
Photo source: https://www.synchrotron-soleil.fr/fr
TTK's Solution 
FG-NET System Overview
TTK France recommended a fully digital leak detection system composed of a powerful monitoring panel (FG-NET) and a series of addressable chemical/water sensing cables (FG-AC).
Specifically designed for laboratory application, the sensing cables are installed along each beamline. Every sensing cable communicates digitally its real-time status to the control panel, thanks to the embedded microcontroller on the cable.
In the event of a liquid leak detected on a sensing cable, an alarm is instantly triggered and displayed on a dynamic map on the monitoring panel. The latter pinpoints the precise location of the leak to 1 metre. At the same time, TTKweb®, the dedicated leak management software
displays the details of the event on a security station computer. An alerting SMS, sent by the client's internal software, reaches all the hall coordinators.
Today, the client wishes to reduce even more intervention time. In the event of a leak, it is required now that a flash/buzzer on the affected beamline gives immediate visual and audible alert in addition to the existing alarms.
Therefore, six external relay boxes (FG-RELAYS) are added to the existing system. They allow the system to light beacons, trigger buzzers, and other external devices. The extension work is simple, for the relay boxes are connected and managed by the central unit via Ethernet network and accessible via a web interface for setup.
Made of corrosion and abrasion-resistant material, the FG-AC cable is designed to detect and locate acid liquid and water leaks for laboratory, fab plant and cleanroom applications. Its reusable feature makes it cost-effective.
It contains an embedded microcontroller on each cable, allowing simultaneous leak detection on a single circuit.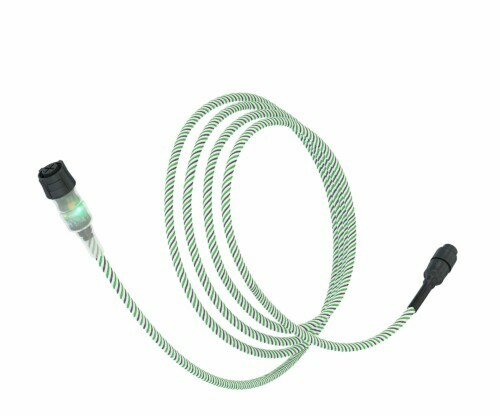 TTK Chemical/Water Sensing Cable FG-AC
The FG-RELAYS works as a satellite device of the FG-NET Digital Unit. It adds a set of 24 configurable external relays to the FG-NET. It allows FG-NET to drive external devices such as solenoid valves, BMS signals, beacons and others, to react in case of leak or system alarms.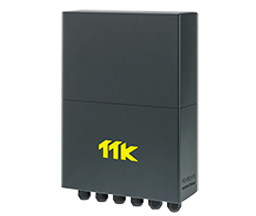 FG-NET satellite device FG-RELAYS
Contact us if you need support on your water, acid or hydrocarbon leak detection project.