>

TTK Project Case Study: TTK at Abu Dhabi International Airport, UAE
+ Toggle navigation
TTK Project Case Study: TTK at Abu Dhabi International Airport, UAE
TTK FUEL LEAK DETECTION SYSTEM IN ABU DHABI INTERNATIONAL AIRPORT, UAE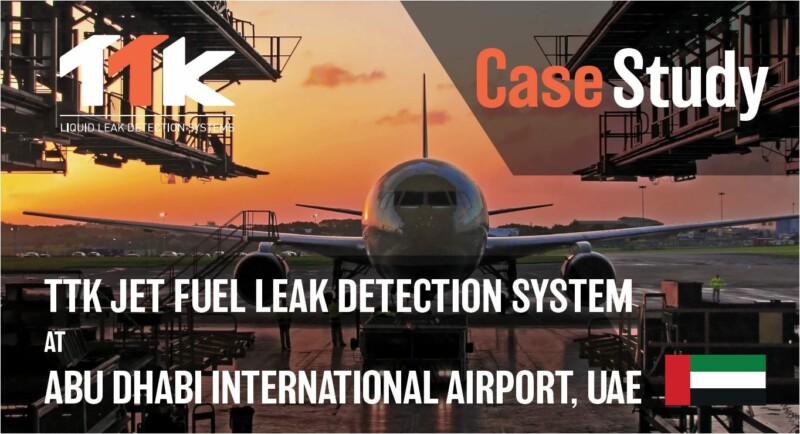 To read this case study in printable PDF format.
Project Background
The client requested a comprehensive jet fuel leak detection and location system to monitor its underground jet A-1 aviation fuel pipeline which is completely buried with concrete.
The project consists of continuous monitoring of the whole fuel pipeline network and early alarming in the event of jet fuel leakage, principally from the filling hydrant pits.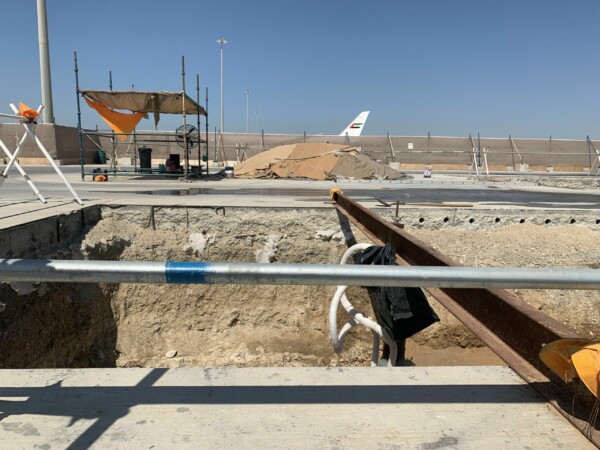 Presential flight hangar under construction
TTK's Solution
For this project, TTK has designed a complete monitoring, alarming, and logging system based on addressable hydrocarbon sensing cables and a digital monitoring unit.
The sensing cables (FG-OD range) are installed along the pipelines through access risers, ensuring a continuous protection of the entire pipeline. The monitoring unit (FG-NET-LL) is installed within a control room nearby the apron. On each of its two separate circuits (leaving a third circuit available for future extension if needed), connected sensing cables by daisy-chaining. Standard lengths of 12 and 20 metres of cables are installed to suit different site section needs. The monitoring unit is connected to client's SCADA system via its JBUS/MODBUS protocol.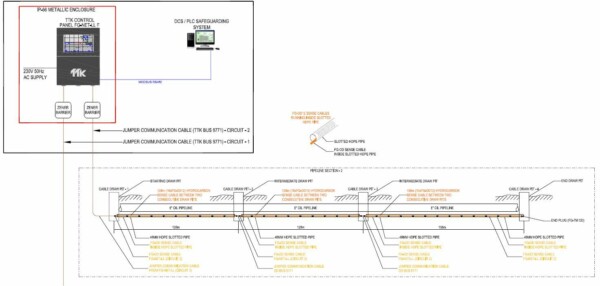 Extract of TTK hydrocarbon leak detection system diagram
for the airport underground fuel pipeline
When a leak is detected on a sensing cable, the monitoring unit triggers an audible alarm, activates relays, displays the precise location of the leak on its integrated dynamic map and instantly reports to client's SCADA System, it also sends email alerts and SNMP traps to a LAN-connected SCADA System.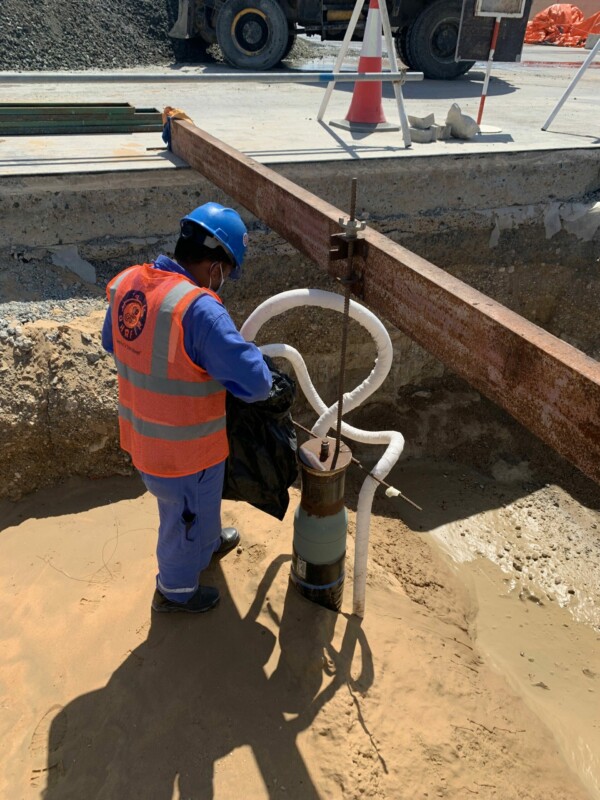 Preparation of a cable draw pit in which TTK sensing cable
(inside a white fabric sleeve) is inserted
Technical advantages of TTK's hydrocarbon sensing cable:
Detects quickly, even small quantity of hydrocarbon liquid, allowing to give very early alarm and gain precious time to operators to react in the event of a leak.
Reusable, allowing onsite tests and significantly reducing equipment costs.
Insensitive to inorganic pollutants, external loads (pressure), and water, thus suitable for humid environments.
Every individual cable is addressable and independent, allowing the detection and location of multiple leaks over a long-line system.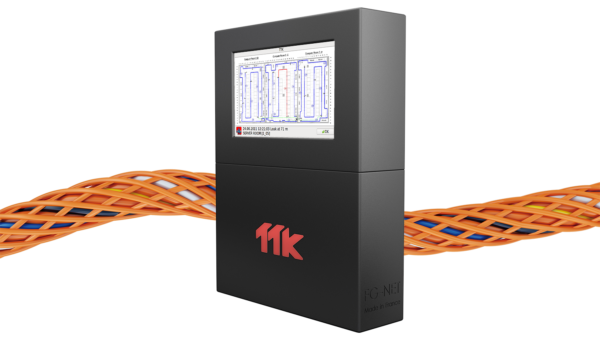 FG-NET-LL: digital hydrocarbon leak monitoring panel
A filtering fabric sleeve is inserted around the slotted HDPE corrugated conduit as shown in the picture at right, allowing to prevent obstruction of the pipe slots and sand ingress inside the conduit.          

TTK fuel sensing cable is inserted inside a slotted conduit
which is inside a white fabric sleeve - typical