>

TTK Project Case Study: TTK at a military air base within EU
+ Toggle navigation
TTK Project Case Study: TTK at a military air base within EU
TTK FUEL LEAK DETECTION SYSTEM IN A MILITARY AIR BASE
To read this case study in printable PDF format.
Project Background
The project consists of the monitoring of the entire fuel pipelines and on-site facilities of a military air base in Europe.
The client requested an advanced and reliable fuel leak detection & location system to monitor its underground fuel pipelines which are buried with sand.
The on-site facilities include truck offloading stations, manifold and filter stations, pump and tank houses, fillstand stations and a manifold building.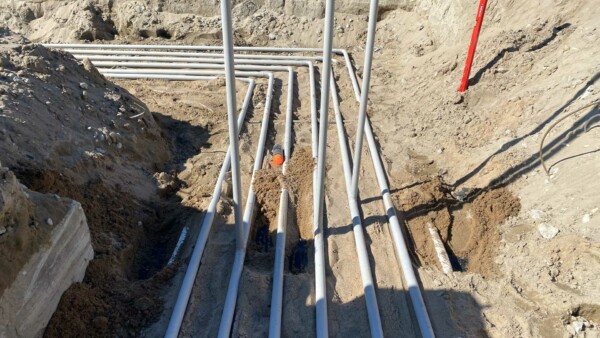 On-site fuel pipelines
TTK's Solution
For this project, TTK Oil & Gas division has proposed a state-of-art monitoring and alarming system based on addressable hydrocarbon sensing cables and a digital monitoring unit.
Several hundred metres of FG-ODR hydrocarbon sensing cables are installed along the pipelines through pulling pits, ensuring continuous protection of the entire pipeline.
These cables allow multiple leak detection thanks to the embedded microchip. The FG-ODR cables, with their relatively low sensitivity, are suitable for volatile liquids in confined environments such as found in this project. 
Furthermore, they can be reused, allowing leak detection tests under real conditions. Standard lengths of 3, 7, 12 and 20 metres of cables, pre-connected with male/female connectors, are installed to suit different site section needs.
TTK sensing cable (inside a white conduit) near the fuel pipelines to be monitored
The monitoring unit (FG-NET-LL) is installed on site within a control room. It is a powerful control panel specifically designed and developed for Oil & Gas industry on long-distance application. Its unique feature "Dynamic Leak Evolution Analysis" consists of analysing the magnitude of a leak and its evolution in time through the alarm logs. The number and sequence of addressable sections which report a leak, together with their timestamp, allow the operator to monitor the leak's progression in time.
When a leak is detected on a sensing cable, the monitoring unit triggers an audible alarm, activates relays and displays the precise location of the leak on its integrated dynamic map. Thanks to its TCP/IP & MODBUS/JBUS Connection, it also sends email alerts and SNMP traps to a LAN-connected SCADA System.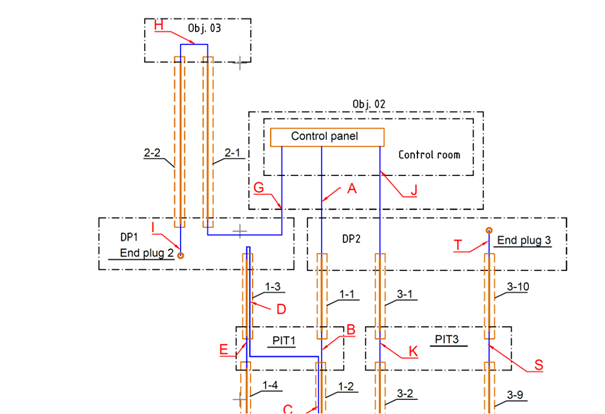 Extract of TTK hydrocarbon leak detection system diagram for the air base project